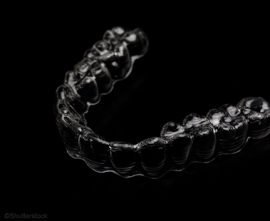 InvisalignⓇ belongs to a category of orthodontic treatments called clear retainers. They can be a great option for straightening teeth, especially if you want to avoid metal braces.
One of our dentists will have several retainers created for you. The retainers carefully bring the teeth into alignment. Our teeth are fairly solid, but they have enough give in them to allow for small adjustments. The retainers can do this gently, so you should feel no discomfort while your smile gets adjusted.
The process works in stages. Our dentists will provide you with one retainer to wear. When it has done its part, our dentists will give you another retainer in order to start the next step of fixing your smile.
Invisalign has several advantages over braces. Your teeth can be seen through the retainers, so your smile can look nicer than it would with regular braces. You can also remove the retainers when you eat a meal or perform your daily brushing and flossing whereas braces would get in the way of these activities.
If you are looking to improve the look of your smile, you are welcome to visit Louisiana Dental Center at our location in Hammond, Louisiana. Our team can discuss Invisalign retainers in more detail, so you can learn more about them before you make a decision. Please call (985) 345-5888, and we will be happy to answer any questions or set up an appointment for you.